Five ways to get what you want at an art auction
January 30, 2018
For some, attending an art auction can be a nerve-racking and frantic affair… are you bidding on the right object? Is the piece collectible? Have you paid too much? Our guide can help turn you into the master of the auction room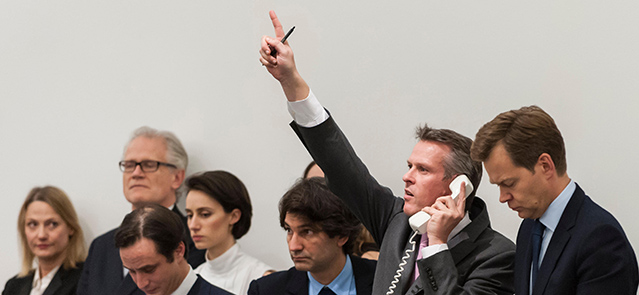 Sotheby's staff bid on behalf of telephone clients. Photo: Alamy
There's nothing like the thrill of buying a work of art at auction. 'Collecting is one of life's great pleasures, and both the process and result have the potential to be hugely exciting and rewarding,' says Helena Newman, chairman of Sotheby's Europe and co-head of Impressionist & Modern Art Worldwide.
'My golden rule for aspiring collectors is to be sure to love what you buy. Ask yourself if the piece resonates with you and, if it is an artwork, will you enjoy living with it on your walls? Indeed, the emotional response of collectors to art is fascinating for me, because I often get to know them through their collections.'
But how to get the edge on the other bidders to ensure you acquire the object you're after at a price you're happy with? In order to bid with conviction, you need to buy with strategy, and our five-point guide can help steer you in the right direction.
Look in more than one place
Recent research from ArtTactic reveals that the art market is healthier than ever, as global auction sales increased by 25% in 2017 to $11.21 billion. The bulk of activity was in the contemporary art sector, with most works selling for between $1 and $5 million.
With a wealth of art on the market, where you go to source it is incredibly important. Auction houses Christie's and Sotheby's rule the roost in the art auction market, but keep an eye on what's up for sale at Bonhams and Phillips – they may be smaller in stature and less discussed in the press, but they often acquire phenomenal works by leading artists.
Each auction house has specialty departments spanning from wine to watches, works of art, painting, sculptures, drawings, prints, furniture and so on. The two highest grossing departments tend to be post-war and contemporary art, and impressionist and modern. Here you'll find the crème de la crème of works.
It's also worth familiarising yourself with the art circuit calendar – more often than not the major sales are in autumn and spring. For instance, February 2018 is the month for Modern and Impressionist Art Evening Sales at Sotheby's and Christies.
Get close to the auction
Attend auctions regularly to familiarise yourself with the process and get a feel for the action in the room. Stand at the back and soak it all up, as the more you go, the less swept up in the rush of it all you'll be. You can also introduce yourself to the auctioneer. Yes, it's a done thing, no matter if you are a budding collector or an old pro.
The auctioneer is a showman who sets the tone. In a room full of telephone bidders, a sea of paddles, and online bids coming in, it can do no harm to have them recognise you. They will offer you bids until you to decline to go any further.
Get closer to the art
You've bought the catalogue, gone to a public preview and found something you might like. Now it's time to really get to know it and the artist. Well researched purchases tend to be far more rewarding. While you want to be drawn to the piece, you also want to understand what you're looking at, what preceded it, how the artist arrived at this point and where the price has come from.
Make sure you ask the experts – there's a plethora of questions to answer before making a bid at auction. Don't hesitate to pick up the phone and ring the specialist. Or, better still, ask to see them and look at the piece together. Seeing the piece in the flesh gives it a whole new feeling that images will never capture.
'It's important to research the artists you like, reading up on connections and meanings in books, articles and journals. Familiarising yourself with the oeuvre of the artists you love means you can learn about your own taste as well as how the works rank against each other in terms of rarity and quality,' says Newman. 'Auction houses are a perfect place to start – allowing you to get close to the art and handle it in a way that is not permitted at public galleries and museums.'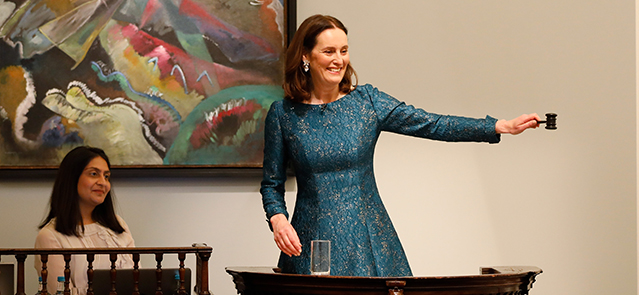 Sotheby's Helena Newman fields bids during the sale of Kandinsky's 'Bild mit weissen Linien' for £33 million. Photo: Sotheby's
Provenance is, of course, paramount. Every work has its own personal history but you can also ask for a condition report – this will help you understand the estimate. Has it been restored in any particular way? If it's a painting, always check the back as it can be very revealing. Look for labels, stamps and chalk marks as these are all small indicators of its previous life and whether it's been through the hands of gallerists, dealers or institutions.
Remember your timing
Getting the timing of your bid right can be a fine balance. Given that you'll have decided on your maximum bid well in advance, take your time, keep your nerve and see how it plays out. Let the other bidders play it out but be ready to chime in when the price is right for you.
It's possible to put in an absentee bid if you can't make it. This sets the limit of what you're willing to pay if you can't be in the room, enabling the auctioneer to bid on your behalf. If the bidding stops at a lower level then you'll buy it for that price.
Stick to your guns
You already know that the golden rule in auctions is having a maximum amount in mind that you're willing to pay. It's near impossible to know how much interest there is in a lot, save for the truly one-off pieces, and more bidders will invariably push the price up. However, play your own game and don't be distracted by others.
Conversely, when you're the only bidder, the silence may create a bit of artistic angst… do other people know something you do not about the piece? Is there something wrong with it? Don't overthink it. Buyers who are more concerned with getting it right rather than sticking to personal tastes are more prone to equate lack of other bidders with lack of value.
'And finally, in my experience, all serious collectors are incredibly driven. If you have your heart set on something, you have to be prepared to go the extra mile to acquire it,' advises Newman.
The dos and the don'ts of art auctions…
Do get there in good time.
Don't wave at friends or make a bidding gesture unless you mean it. Ill-timed hand gestures are a problem.
Do keep your eyes open. Sometimes evening sales can go on for some time with lacklustre bidders, but that's no excuse!
Don't bid on the wrong lot. It does happen and it's irritating for the auctioneer. Keep clued in, and familiarise yourself with the timing of your lot.
Do get the boring bits out of the way before the auction. Register to bid well in advance of the auction.
Don't bid for the sake of it. This might seem straightforward, but it's considered poor form.
Do follow up post-sale to see what's left. Lots fail to find a buyer sometimes, and often those who seek out the treasure of the aftermath end up acquiring fantastic works.
Find out more about insuring your art collection