Five iconic buildings to inspire your home
April 06, 2017
If you're planning a holiday but also a home renovation, then why not combine the two and travel to the world's most stunning architectural sites for ideas?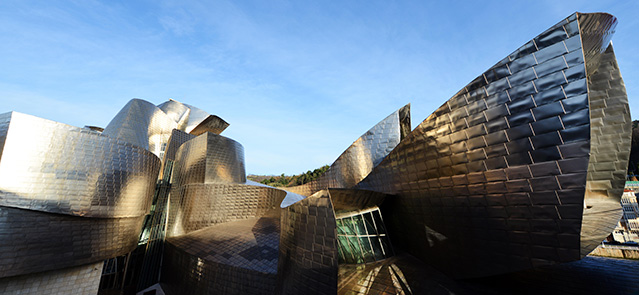 The Guggenheim in Bilbao by architect Frank Gehry. Image: Alamy
Do you adore postmodern design but wonder what it would look like in your kitchen? Or perhaps you fancy adding a touch of Regency to your living room but not sure where to start?
If you're willing to travel, there are stunning examples of architecture around the world that can help inspire your next home project – from museums that showcase metalwork at its best, to an opera house that is the very personification of Scandinavia. So what are you waiting for?
Postmodern adventure: Piazza d'Italia, New Orleans
Postmodernism may be one of the most controversial styles in the history of art, but its sheer complexity lends itself to those keen to experiment in their home. The Piazza d'Italia in New Orleans is a great starting point for inspiration. Both a memorial and a public space, it is an icon of postmodern design – despite not actually being a building.
The architect behind it is Charles Moore. Long considered unconventional, Moore designed what others wouldn't dare to do, taking an illustrated and layered approach to this urban redevelopment project. Long sequences of columns, along with arches and a bell tower, form curves around a fountain. Brightly coloured structures are trimmed with neon and metallic, while the paved surface is embellished and textured.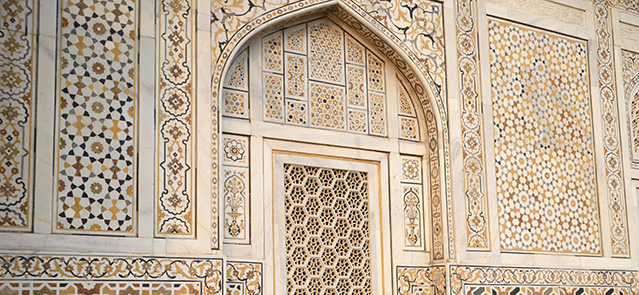 The Tomb of I'timād-ud-Daulah in Agra, India has earned the nickname 'the Baby Taj'. Photo: Alamy
Regency drama: Sir John Soane's Museum, London
John Soane's Museum remains one of London's most fascinating spaces in London, having once served as its namesake's own home in the city centre.
Starting in 1792, Soane, who was himself an architect, bought, demolished and rebuilt three houses in Lincoln's Inn Fields. He transformed the properties with ingenious uses of height, space, sight-lines and light, resulting in rooms that feel dramatically more spacious than they actually are.
The buildings were turned into a museum after his death in 1837, as Soane had requested that 'amateurs and students' have access to it. As such, the bewitching Grade 1-listed house is largely as Soane left it – brimming with the eccentric and exquisite art, furniture and architectural ornamentations that he collected somewhat obsessively.
Visitors to this extraordinary house can witness firsthand how to channel and direct daylight, use panelling to emphasise height or manipulate perspective, and utilise colour to create a dramatic impact. But if there's one single lesson that guests will take away from his home, it's how to turn clutter, collecting and even hoarding into an art form.
Industrial chic: The Guggenheim Bilbao, Spain
Are you intrigued by the notion of a metallic-based interior? If you're after slick shelving units, metal worked into flooring, glowing wallpapers, or even a luxurious free-standing tub, head to northern Spain. Here you'll find the Guggenheim Bilbao – a stunning collection of stone, glass and titanium – overlooking the Nervión river.
Designed by Frank Gehry, who has been described as the most important architect of our age, the building opened in 1997 as a home to 20th-century and contemporary art, attracting one million visitors a year.
With its twisting glass and steel and irregularly-shaped walls, the Guggenheim is one of Gehry's most daring projects. It dramatically shifted the direction of museum design from that of the neo-classical style usually seen in Europe and the US, paving the way for a new generation of contemporary museums and galleries. Could it shift the direction of your living room?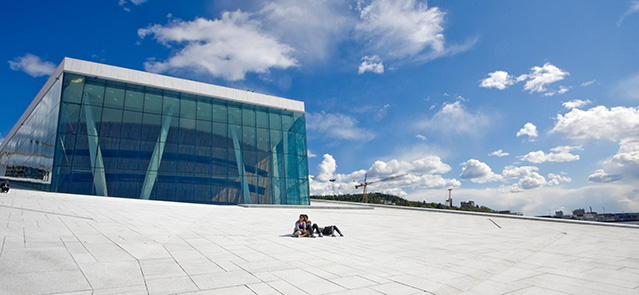 The Oslo Opera House embodies Scandi chic. Image: Alamy
Scandinavian transparency: The Oslo Opera House, Norway
The Oslo Opera House is another modern masterpiece. The brainchild of Norwegian architects Snøhetta and situated in the Bjørvika neighbourhood of the city, the building cost a whopping €500 million to build. It's often referred to as 'the iceberg', owing to its angled marble and white granite exterior that creates the impression of a glacier floating in the water.
For those looking for home inspiration, the building embodies many core factors of Scandinavian design. With vast 15-metre-high floor-to-ceiling windows, the opera house aims to give its visitors maximum views of the water. Meanwhile, its interior walls of curved golden oak and playful use of low-level lighting bring a contrasting warmth to the iceberg exterior.
Indian opulence: Tomb of I'timād-ud-Daulah, India
Looking to add a touch of Persian grandeur to your home? Put the Tomb of I'timād-ud-Daulah in the city of Agra at the top of your list.
The exquisite and elegant tomb of Mizra Ghiyas Beg, who was a Persian nobleman, lies within sprawling gardens and is nicknamed 'the Baby Taj'. It's not hard to see why. While not quite as striking and awe-inspiring as the Taj itself, the mausoleum is indisputably more delicate in appearance, owing to its finely carved jalis (marble lattice screens). It was also the first Mughal structure to be built completely from marble.
Interestingly, the design, with feminine lines and pietra dura (pictorial mosaics and semi-precious stones inlaid in white marble), is such a departure from the masculine buildings of its time that many argue that both the concept and skill may have travelled to India from 16th-century Florence.
Find out more about Hiscox travel insurance today. Or, for those of you looking for something a little closer to home, make sure that your next home project is covered by your insurance. As part of our Buildings Insurance policy you can get full cover for your home if it's undergoing building works over £75,000. For more details, visit our Renovations Insurance page.