Festive rituals: Expat traditions
December 11, 2014
For some, Christmas takes in tastes of home and abroad.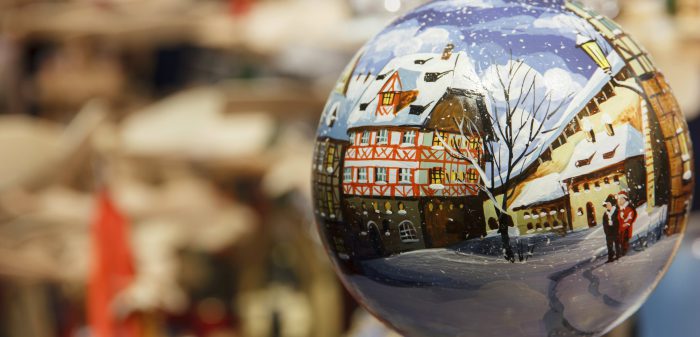 In the final of our three-part series on fascinating festivities we meet Tobias and Rahel Franks, two German expats who incorporate rituals from their homeland into their new UK traditions
"We came to live in London in 2007 from Berlin," says Rahel. "In Germany we used to cut down our own Christmas tree. Now we get ours from the local high street.
"We thought we'd miss traditional Christmas treats like Stollen, Lebkuchen and Glühwein, but we soon realised we could find all of them in the UK. Our only problem is stopping ourselves from eating it in September.
Adopting new Christmas traditions
"Some British foods are now firm family favourites. We love roast potatoes and honeyed parsnips – but brussels sprouts I'll happily give a miss.
"It took us three years to try a mince pie – we were convinced it was meat in sweet pastry, and with the British sense of humour we thought this quite possible.
"In Germany, Christmas is a time to reflect and be serious. What's great about a British Christmas is the sense of fun.
"Germans don't have Christmas crackers – my in-laws still don't quite approve of the corny one-liners. And we love panto. My husband has performed in two.
Adding a cultural twist
"Instead of Christmas stockings, we've kept the German tradition and our three boys, Victor, Justus and Leo, put an empty shoe outside their bedroom door and awake to find it filled with an orange and sweets on 6 December, St Nicholas's Day.
"In Germany, the food, presents, tree and chaos all happen on 24 December. Now we stagger things, and have our big dinner on Christmas Day.
"Here the Queen's speech is broadcast on every channel. In Germany an old British comedy sketch called Dinner for One is shown. We bought the DVD because we missed it so much.
"British Christmases have become very special to us. The ice-skating at Hampton Court, the twinkling lights of Hyde Park and old buildings that make you realise you're walking the same streets as Dickens. It's hard to beat."