Drawing from experience: a portrait of Barry Reigate
July 25, 2018
The work of contemporary artist Barry Reigate explodes off the canvas. Exhibiting at this year's Mayfair Art Weekend, we talk to him about his childhood, influences and plans for the future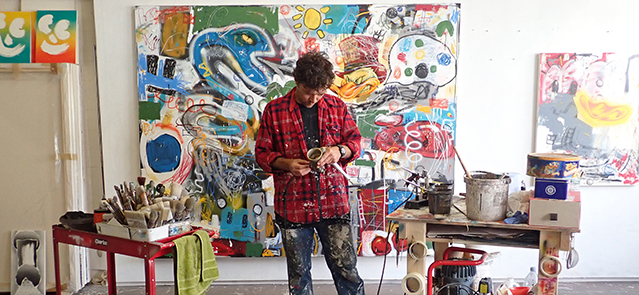 Barry Reigate in the studio in front of a piece shown during Mayfair Art Weekend this summer
Mayfair Art Weekend celebrated its fifth edition this summer, coinciding with the landmark 250th anniversary of the Royal Academy of Arts. Sponsored by Hiscox Private Client, the weekend draws from the rich artistic seam running through London's Mayfair and St. James's, with more than 40 galleries, auction houses, artists and the wider creative community inviting members of the public to explore special events, exhibitions and installations.
One of the artists on show during the weekend was Barry Reigate. Drawing from a diverse set of cultural influences, his attention-grabbing work highlights London's cultural heritage. After graduating from Camberwell College of Arts in 1993, Reigate turned his love of pop culture into an art form, creating flyers for acid house parties and even storyboards for Cartoon Network. But it wasn't until he got his own studio that things started to take off.
In 1998 Reigate co-founded an independent artists' gallery, The Kitchen. In the years following, he exhibited at some of London's biggest art venues, including the Saatchi Gallery, Tate Britain and, most recently, the Mayfair Art Weekend.
Two of Reigate's works were featured at the weekend in the Partners and Mucciacia gallery: a painting entitled Get Lost Snake, Who Cares If I'm a Duck, I'm the King of the Castle and It Does Dunnit?
A lot of Reigate's art is, as he puts it, 'a crash of imagery' – a riot of colour, cartoons and pop culture excess. The epitome: Untitled Painting 6, is a striking work that currently resides in the Hiscox Collection.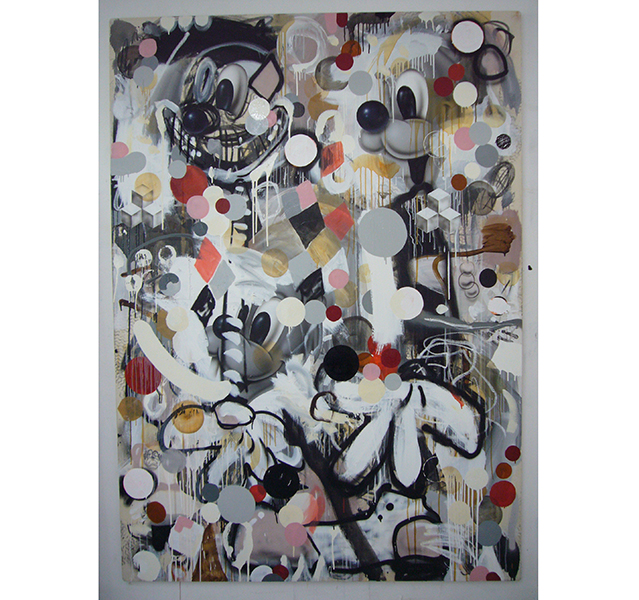 Part of the Hiscox Collection, Barry Reigate, Untitled Painting 6, 2010
'It's a perfect example of his work,' says Whitney Hintz, curator of the Hiscox Collection. 'The emphasis on pop art, the heavily worked canvases, the references to Mickey Mouse…
There's a lot going on, a lot of materials: spray paint, paint drips, footprints. It's a really vibrant painting. The art just explodes out of the canvas.'
Sharing its clients' passion for fine art and collectables for more than 40 years, Hiscox now has over 1,000 pieces in its collection. The firm purchased Reigate's painting in 2010 shortly after being introduced to his work.
According to Hintz, 'Barry's really influenced by London, where he grew up. He incorporates a lot of the city's street art into his work, elevating it from the street to the canvas, playing with it, testing its limits. Revisiting his youth, revisiting where he grew up – it's really important to him.'
Q&A with Barry Reigate
What is your background?
I grew up in Croydon, in one of the housing estates built in the 1960s. We moved in there about 1974, when I was three years old after living in a bedsit. It was a weird housing complex – weird in that its location was quite far away from central London; one felt cut off, especially with no money. It was mainly low-income families that lived there and back in the mid-1970s and 1980s it was a mix of different cultures and backgrounds.
I grew up with a single mother and the only time I actually remember my father when I was young was when my brother and I used to visit him at various prisons around London. I think my background helped determine my interest and focus into art. For me, art was a form of escape and a place I could use my imagination to capture another reality.
It seemed that drawing was my principal talent (my father used to teach me to draw cartoon characters during prison visits) and also long-distance running (in my head, running helped me move forward).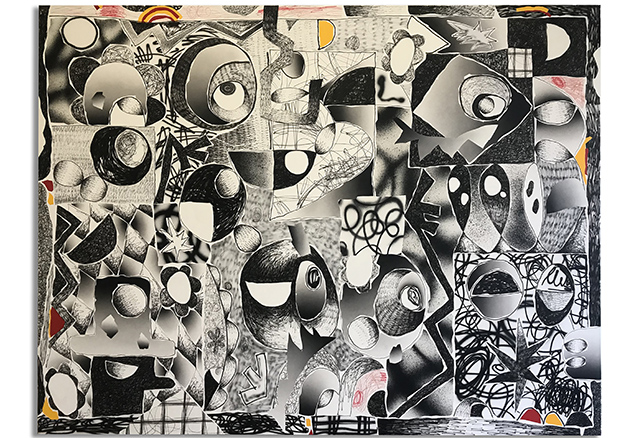 Barry Reigate, It Does Dunnit?, 2018
Tell us about the pieces you exhibited at the Mayfair Art Weekend
The works of art are from two different series. It Does Dunnit? is from the airbrush series, where the paintings are made all through different spray guns in acrylic paint; the others are collaged mixed-media pop paintings, made with different materials including airbrush. They are much messier and scratchy than the other airbrush works.
The airbrushed artworks are inspired a lot by the CoBrA movement, especially Dubuffet, but also drawing and doodling. They take me back to a kind of essence of art making, drawing itself. I take a very small sketch, a doodle that is half abstract and part cartoon-like and then enlarge it onto a big primed canvas.
All the shapes and sprayed patterns are drawn using the spray tools – I say drawn, as I use the airbrush in these works like a pencil. The colours are toned down to a minimal palette; in fact, one is just two colours, dark grey and off white. I want these works to suggest drawing and allude to the idea of automation, taking the line for a walk, while still having a fun aspect to them, the cartoon-like shapes.
Who Cares If I'm a Duck, I'm the King of the Castle is from the mixed-media collaged works, which are part of a series I've been doing for a while and make alongside the airbrushed works. These are more inspired by graffiti, the mark-makings and scratches one sees on the walls in urban landscapes, or within the walls of public toilets. I collage the works up and scribble over them with airbrush, a bit similar to the airbrush works, but looser with a crash of imagery – things that are made up and also taken from popular culture, like cartoons.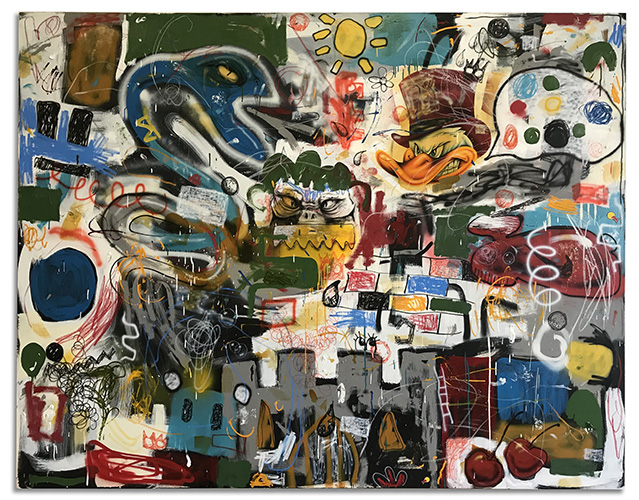 Barry Reigate, Get Lost Snake, Who Cares If I'm a Duck, I'm the King of the Castle, 2018
What does the future hold for you?
I will keep making paintings and pursuing my practice. I really like spray painting, graffiti, looking at the consequences of its influence on art over the years. For me painting and drawing is something I'm kind of addicted to – I need that space for something to do, to escape from the world outside. But, I'm also getting interested in other things alongside the studio work.
I want to collaborate more – working with those who are less privileged to be able to make art. I see teenagers who could have the potential to have a creative career, something based in art – albeit loosely, not just works in a gallery. They could pursue graphic design, make storyboards or open a tattoo shop.
A lot of these kids are alienated from art or anything around it because of a lack of opportunity to study further. I would really like to be involved with something that would help some of these young people out.
Visit Barry Reigate's official website
Find out more about Hiscox Private Client