Designing the perfect partnership with your architect
November 18, 2015
Nominated for the RIBA House of the Year Award 2015, Cefn Castell's white rendered minimalism is a spectacular testament to how client and architect can work together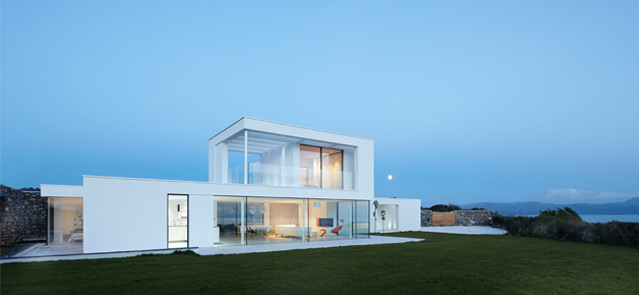 Photograph: Andrew Wall
Perched on a windswept clifftop overlooking Cardigan Bay, Cefn Castell is a modern coastal masterpiece. Its artful minimalism has captured the attention of the architectural world and garnered a slew of awards, including a nomination for the RIBA House of the Year 2015. For owners Rob and Kay Hodgson, the secret to the project's success is simple. 'It's all down to the relationship with your architect,' says Rob.
When Rob and Kay's dream of buying a Welsh manor house in Criccieth fell through at the last moment, they decided to take matters into their own hands and start from scratch. But as they turned their back on the joys and miseries of owning 'old houses', Rob and Kay were to find that building from the ground up created a whole new set of challenges. 'It can be stressful,' admits Rob. 'But having an architect on side who you can trust with your vision certainly makes a lot of difference.'
After scouring the RIBA website for an architect, Rob interviewed three different firms before he came across John Boardman and Keith Hamilton of Stephenson Studio architects in Manchester. 'Lots of practices claimed to build contemporary homes, but only John and Keith really understood the modernist principles I was looking for. The minute we sat down we had an instant rapport.'
Define the brief
Having an open and direct relationship with the architect is crucial to realising the client's dream home but Rob also credits an 'overly detailed' brief for helping John to gain a thorough insight into their modernist vision. As a result, John could establish a clear outline for what Cefn Castell should look and feel like long before the construction teams set foot on the site.
'We included a lot of personal information in our brief, including examples of architecture we really liked and how we imagined using our house. It was our opportunity to really make John understand what makes us tick,' says Rob. 'It's not enough to list how many bedrooms or bathrooms you want. You need to get to the emotional heart of the project and tune your architect into your way of thinking.'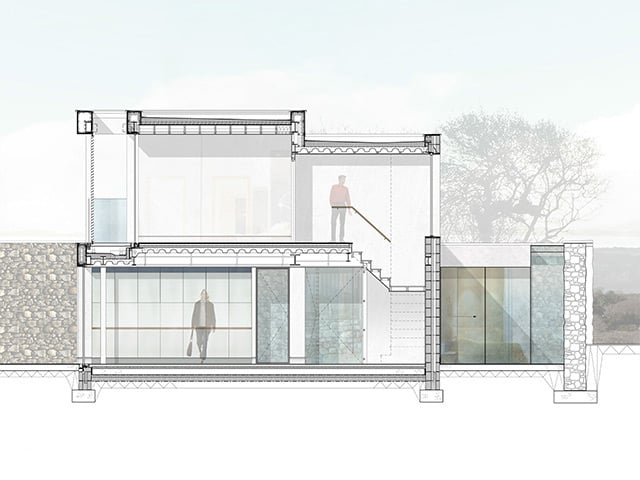 In a bid to incorporate an element of Welshness into the design, Cefn Castell is surrounded by a boundary wall made from the stone remains of the 400-year-old cottage that formerly inhabited the site
Scenery was the defining consideration in the design of Cefn Castell's three-bedroom property, with both Rob and John keen to capitalise on the site's tremendous panoramic views over Cardigan Bay. 'We didn't want anyone to feel like they had a second-rate view, no matter where they were in the house,' says Rob. Sliding screens and pivot doors were introduced to create a sense of transparency about the property, and on the first-floor master bedroom a glazed wall was installed to look out over the Irish Sea and Welsh coastline below.
Establish boundaries
Again, Rob recommends an honest and productive dialogue with the architect for the successful inclusion of finer details. However, once the building begins, Rob advises that clients take a back seat and let the architect do their job. 'There's a temptation to meddle and interfere. But you need to trust your architect, and accept that they know what they're doing. Do that, and you'll get a much purer realisation of your vision.'
For Rob, this was particularly true when it came to integrating his modernistic, new home into the rustic vernacular of the Welsh coastline. 'I was convinced we'd have to build some of the house out of stone,' says Rob. 'But John pointed out that if we used the remains of the 400-year-old cottage on the site to build a boundary wall, we could avoid compromising the modernist principles of the house.'
So while Rob and Kay can enjoy their beautiful, glass-box gem of a house, visitors trekking along the coastal path will only glimpse the property behind a traditional-looking Welsh stone wall. 'In hindsight, it's such a simple solution but something I would never have thought of,' admits Rob. 'When John and myself first met amongst the rubble of the cottage, we pulled out a couple of deckchairs and we just sat there talking about architecture. Communication is half the battle with these things. If you can get on with someone that easily, you know it's got the potential for success.'
If you're considering building your own home, read architecture expert Clare Dowdy's guide to getting started
Read more:
Kevin McCloud talks posh jackets, creating shadows and the kind of person who builds their own home
Can your home physically do you good?
What your home says about you – Dr Linda Papadopoulos / Psychology of the Home