Leak misery, DeHum, and a wedding surprise / Customer stories
September 24, 2015
It's a wonderful thing when you find a happy customer with a story to tell and a knack for writing. Here's Hiscox customer Dr John Urquhart's charming story about an untimely case of damp and how he went about fixing it.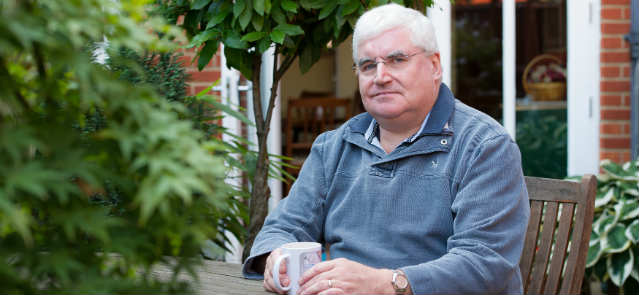 "In November, susceptible people – like me – often experience worsening asthma symptoms and I had had occasion to consult my GP just that week. Much to my delight, my daughter was coming home; so, after putting a vase of flowers in her room, I was dusting when I noticed a mark on the ceiling that I hadn't seen before. Immediately above is my bathroom, and so with trepidation I removed the bath panel there and revealed horrible, smelly mould and damp covering the wall and floor. Now, I take great pride in looking after the home I share with the lady who, at that point, was my fiancée, and the sight made me sink to my knees, and cry tears of frustration. My ill-health was explained by the mould in the air, the stain on the ceiling below explained by water escaping onto the ceiling from the bath above.
Meeting Lynsey
In a very few minutes, however, I was going to make a friend who would go on to see me through all the restoration that would take place. I rang Hiscox, and without any answer machine "You now have eleven options" misery, a lady introduced herself as Lynsey and gave me such confidence that I immediately felt that a burden had been lifted. These things happen, Lynsey told me; and she was going to mend it for me. Then, and on every occasion afterwards when I had to discuss matters with Hiscox, it was always on Lynsey's direct line, and I never had to recap or remind Lynsey of anything – the discussion took on exactly where it had been left off. What a relief not to have to replay events every time I made contact, as would have been the case with any  other insurer.
DeHum
Within the day people from a company called Revival attended, and quickly identified the source of the damage as a broken seal around the bath, in turn due to a broken bath support. These things happen, they said, installing a device the size of a freezer cabinet that was going to occupy the bathroom for the next two months; we called him DeHum, short for Dehumidifier.
But while DeHum did his business, Revival set about exposing the extent of the damage. Into a skip went bath, plaster, most of two walls, to one side went toilet and sink, until all that was left was a lot of space, exposed brickwork, and DeHum.
Before: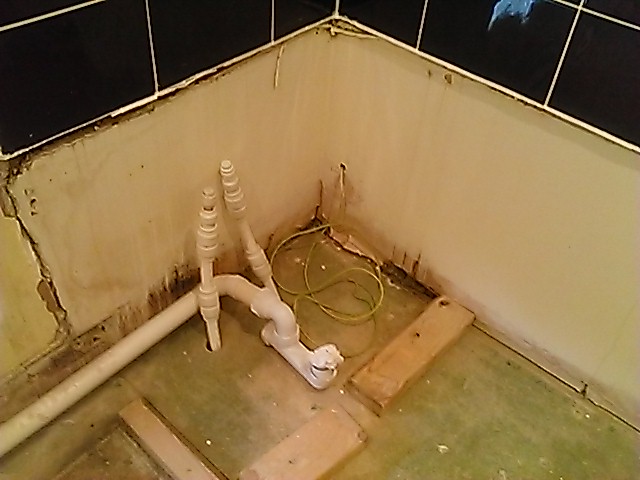 Lynsey then introduced me to a gentleman who would be the loss adjuster. Always stern, commanding figures in my experience; but this one was firmly on my side. These things happen, he said to me, and he was going to put it right. No requirement for three quotes for every task; instead, the principle of reasonableness; "Go ahead and instruct contractors," he said, "and we will repay them, as long as they aren't outrageous."
Of course, things didn't always go exactly according to plan; on one occasion, the lights went out while the boys (and girls) from Revival were exposing brickwork – they had hit a power cable. These things happen, they said; the skill is to recognise when something has gone wrong, and deal with it. They had an electrician on site within the hour; "Well," he said, "These things happen. You wouldn't expect to find a cable there, now, would you," and the cable was repaired in minutes.
And so DeHum did his thing, until Revival were satisfied that all the damp had been excised. It takes time. At least, if you do it properly, it takes time. Revival went on their way, cheerfully, and in came plumber, builder and decorator, and soon we had a beautiful, restored, bathroom. I took such pride, I would sometimes just go and sit in there, admiring it all.
After: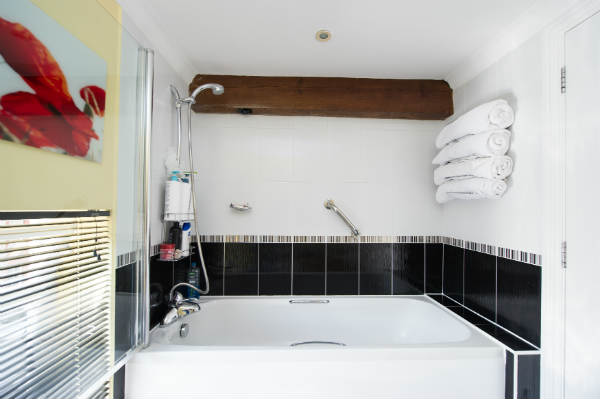 Most touching of all, however, was the day when the lady who you will remember I introduced you as my fiancée at the beginning of the story, was to become my wife; we had a house full of guests, and an inoperative bathroom. So, Hiscox installed us in a hotel for the day of our wedding, and on that morning, we had a knock on our bedroom door; a parcel for us. Inside, chocolates and a bottle, with the compliments of Hiscox and with best wishes for our Wedding Day.
Now, why would I insure my world with anyone else?"
For more customer stories, tips, advice and inspiration on protecting your home, stay tuned here or follow us on Facebook
Read more:
What does your home say about you? Dr Linda Papadopoulos
Can your home physically do you good?
What will the home of the future look like?
How to look after antiques and valuables