Could you become an Olympic cyclist?
September 05, 2016
After the success of Team GB in the 2016 Olympics, Richard Peace looks at the ingredients required to become a champion cyclist, and talks to Ross Dingwall, Managing Director for Hiscox UK and Ireland Broker, about his experiences in the cycle fast lane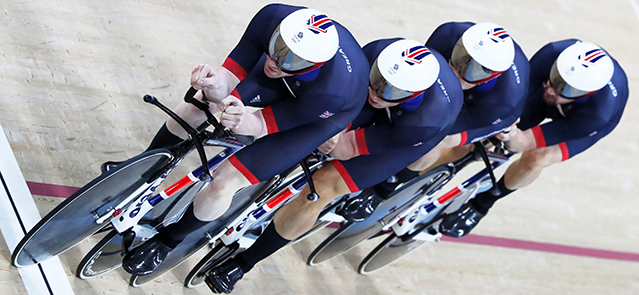 Bradley Wiggins and teammates go for gold in the Men's Team Pursuit at the 2016 Olympics. Photo: Alamy
Have you ever wondered if, with the right amount of practice and ambition, you could burn up the track like Bradley Wiggins or Chris Froome? Ruth Eyles, former National time trial champion and now professional cycle coach, is clear on the point.
'Not everyone who dreams of winning an Olympic medal can do so. We are not all on a level playing field and some people have a head start compared with others in terms of the physical attributes they were born with.'
But the good news is there are plenty of other areas where you can gain a competitive advantage, even if you fail to reach the very highest level. With one in seven of the over 7ft US-male population selected to be basketball players, cycling success doesn't seem to be predicated on certain body types in the same way.
In fact, the vital stats of leading road cyclists are not remarkable compared with athletes in other disciplines. Cycle endurance riders are on the tall, skinny side and cycle sprinters on the small muscular side, but other factors work to equal out inequalities in body size and shape – for example, all classes of racing take place on bikes whose technical specs are strictly controlled.
The official route
One of the keys to Olympic cycling success has been a targeted approach to improving elite athletes and a strong structure of competitions for cyclists making their way up the ranks. British Cycling (BC) organises various levels of competition in different categories. It categorises riders of similar ability together with progression based on accumulating points in races. All of which means you have a real chance to be a champion in your category and to work up.
Starting cycling seriously at an early age is a common ingredient with all pros. As Eyles remarks, 'The standard of pro cycling is so high and the "apprenticeship" so long that it is extremely hard to break into the professional side of the sport if you start out any older than about 18 or 19. It can be done, but a rider would have to have exceptional ability and determination.'
Eyles adds that the branch of cycle sport requiring the least experience, tactics or skill is time trialling. 'It is possible for a rider to win a National Championship with very little racing experience because they simply have to ride very hard in (mainly) a straight line to win a British-style time trial.'
It's also worth noting that, at whatever level, all BC-endorsed competitions have requirements for bikes to comply with UCI standards.
Watt's it all about?
Power delivery is the bedrock of achievement for pro riders. In quantifying your power you'll soon learn that the 'watt' is now the common currency of serious training talk.
Modern bike technology and sports science tell us that top professional riders capable of winning longer races need the ability to deliver an average of around 6.7 watts per kilo on a serious climb towards the end of a long road race. So, for example, a 65kg pro would be climbing the last hill of the race outputting around 435 watts.
Knowing what figures you can produce is undoubtedly helpful and this is where power meters come in, which are great for knowing what effect training is having. Heart rate monitors will also help you make sure your heart is working at the right intensity for the correct amount of time.
Don't forget technique
So what's it like to push yourself as a cyclist if you happen to have a day job? Ross Dingwall, Managing Director for Hiscox UK and Ireland Broker, is a keen road rider and completed the extremely tough stage 8 of the 2016 Tour de France on a timed charity ride, the day before Chris Froome's famous victory on it. The stage included one of the highest points on the tour: the Pyrenees' 2,115m Col du Tourmalet.
Although Ross regularly completes 100 mile circuits at weekends and usually rides two or three times in the week, he quickly saw the difference between the keen amateurs and the seasoned pros.
'I was struck by the fact that I was about 20% slower up the hills than the pros and the hills were maybe not as hard as I expected (albeit still hard), but where I really noticed a difference on them were the descents and the flat. I was only getting something like 50% of the pros' speed,' he says.
'It bought it home to me that competitive riding is about defensive riding and technique as much as fitness. Above 35mph on the bike you have to really be sure of your technique and ability.'
Descending is definitely an art form, as you will appreciate if you watch Froome's amazing descent on stage 8 – the leading riders exceed 80kmh, which is almost 50mph (and you have to be very confident of your abilities to emulate Froome's balancing on the top tube technique).
Safe but fast descending is all about balance on the bike, road positioning and when and where to accelerate or ease off. For the record Ross's time was 6 hours 45 minutes and Froome's was just under five hours.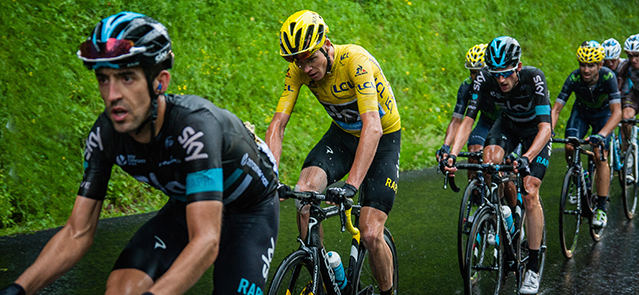 Chris Froome makes his way through stage 20 of the 2016 Tour de France. Photo: Alamy
Commitment really counts
With 2016 marking the third time he has completed a timed stage of the Tour de France, Ross is a firm believer in preparation and practice. 'I have a top end, sub 7kg Cerevelo road bike and use technology such as power meters and heart monitors to maximise the effect of my training,' he says. 'However, dedication and commitment have played just as big a role in being able to take on and progress at challenges such as this, and I have progressed an awful lot at cycling over the last three or four years.'
If you are aiming for success at any level in competitive cycling, it shouldn't be underestimated how much time and effort you need to put in. As Eyles says, 'I don't think people who do not compete in cycling have any idea how dedicated you have to be to be just an "average" racing cyclist, let alone a good one.
'The competitive side of cycling is not a sport for the half-hearted or something you can easily just dabble in. Getting to a decent level of fitness for cycling takes a very considerable amount of time and involves training on five or six days a week as a minimum, with some of those training sessions lasting for three or four hours.'
It's not just about the money
If you do want to be a seriously competitive road cyclist, then it won't be cheap. But before you spend thousands on a new bike that's just that little bit lighter, do bear in mind there may be much cheaper ways of gaining time in your bid for cycling victory. As website Velonews concludes: 'In short, you're much better off upgrading your legs and dropping body fat through proper training and diet.'
Other things like proper rest between rides are easily overlooked by those consumed with having the newest and shiniest bike. Even shaving your legs can knock off a little time on a long ride – so maybe time to break out the razor before raiding your bank account…
For more details about how you could participate in a cycling event see Sports Tours International.
Find out more about Hiscox bicycle cover as part of Hiscox Home Insurance