See golden marrows near the Gherkin
June 28, 2016
If you come down to the City of London today you'll be sure of a big surprise, says Robert Read, Hiscox's Head of Art and Private Clients.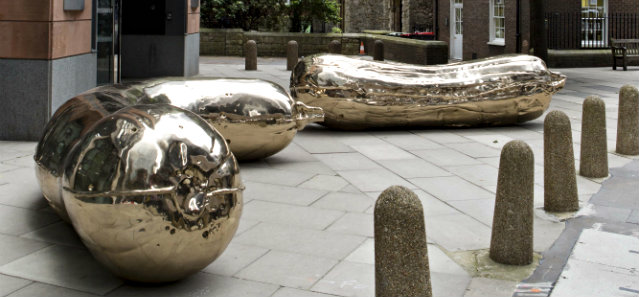 Sculpture in the City 2016 launches today, with eye-catching modern sculptures by some of the world's most famous artists set among the iconic buildings of London's business district, such as the Cheesegrater and the Lloyd's Building.
Highlights include an enormous bright-red geometric piece by world-renowned artist Anthony Caro, a painted bronze door by Gavin Turk and a seven-metre high cast-iron head by Jaume Plensa.
Sculpture in the City is a public art exhibition which Hiscox is proud to have supported since its inception in 2011. Art is particularly close to our hearts: we collect it, we insure it and we encourage it, through supporting prizes and exhibitions such as this.
I'd urge everyone who can travel into London to come and see the 17 artworks, which also includes a jaw-dropping zoetrope by Mat Collishaw. For a full list of artworks on show visit City of London. You'll not regret it.
This is the sixth exhibition and it has been such an instant hit that everyone involved has wondered why they didn't do it before. It has grown into a prestigious and critically acclaimed event in the art calendar, which has featured pieces from top galleries and leading artists including Anish Kapoor, Tracey Emin and Anthony Gormley. A lot of credit must go to the Corporation of London for all the hard work involved and for getting so many businesses to endorse and support the project.
Having these artworks dotted around the Square Mile is enormously positive for the people who work or live here. Everyone, regardless of whether or not they are modern art lovers, appreciates being in a changing environment. The sculptures make us look and think differently about the everyday world around us, which is very stimulating.  Also, being exposed to art is proven to improve our sense of wellbeing and creativity. So, hopefully we will feel, as well as work better.
Personally, I love the Sarah Lucas sculptures that are outside our offices in Great St Helen's. They are monumental bronze marrows polished to look like gold. They're bling, but very organic bling. They are witty, homely but also incredibly beautiful and make me want to go up and hug them!
Even though this exhibition is in the heart of the Square Mile, London's financial centre, the bottom line for once isn't about money. It's about the return we all get from investing in our spirits. It's just good for the soul to be surrounded by these artworks and good for the City. So why not come and see for yourself?
Find out more about this year's event which runs until May 2017 at Sculpture in the City
Have you been to Sculpture and the City before? Tell us about it in the comments.
Robert Read joined Hiscox in 1992 initially writing the Fine Art book.He is also a failed artist and collects modern British Art as well as Victorian taxidermy.