Grand Designs House of the Year
City vs country: what an architect sees that you don't
November 23, 2016
With Grand Designs: House of the Year hitting our screens, presenter and RIBA architect Zac Monro discusses how the demands of a city build versus a country one create a stunning variety of designer homes.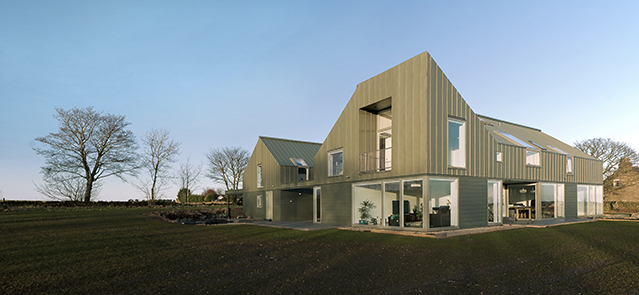 Photo: Zinc House by LJR+H Chartered Architects, photographed by Mark O'Connor
Every so often a house is built that shakes the very foundations of modern architecture. Be it an economically proportioned city residence – cleverly engineered to look and feel more spacious – or a sprawling country pile that miraculously merges with its surroundings.
Someone who knows this all too well is Zac Monro, an award-winning London-based architect and one of three presenters of this year's Grand Designs: House of the Year.
Over the space of four weeks, Monro, fellow RIBA architect Damion Burrows and Grand Designs' Kevin McCloud take us on a tour of the RIBA House of the Year 2016 longlist, revealing the shortlist and finally the winner of home architecture's most prestigious award.
We catch up with Monro to discuss this year's awards and find out why the winning property will be more than just a beautiful home.
What was the most interesting thing about this year's list?
I'd probably say meeting the architects behind the properties that I visited. When you talk to the person who designed the building you understand so much more about the concept and how they responded to the challenge of a landscape.
What does an architect see in a project that an owner doesn't?
As humans I think we all know whether or not a piece of architecture is beautiful, but to fully comprehend the reason behind a design – and not just seeing materials or form as purely stylistic or decorative – you have to talk to the architects themselves.
Today, architects are all very wary of creating something that alters its surroundings negatively, and in this respect the judges of House of the Year aren't just looking for a pretty building but something that answers a question of some significance. They won't consider beautiful houses that do nothing for their environment.
Did you notice any themes or trends in this year's list?
There's a definite modernist flavour to the list this year. The Owers House in Cornwall has a very strong modernist pedigree; it cantilevers, it appears to almost float in the landscape and even the pictures of it really hark back to images that you've seen from the 1960s.
The Owers House speaks of our genuine architectural heritage from the last century, and also shows that those ideas were totally ahead of their time, despite being partly unrealisable. In the 1960s you'd hear of homes that leaked or were too hot or too cold, but today, thanks to modern technology, these problems just don't occur.
With Ansty Plum, Outhouse, The Owers House and even North Vat, you can see the modernist influence really clearly. Each take the honesty of a material and put it on show, which I think is really the epitome of both modernist and brutalist architectural styles.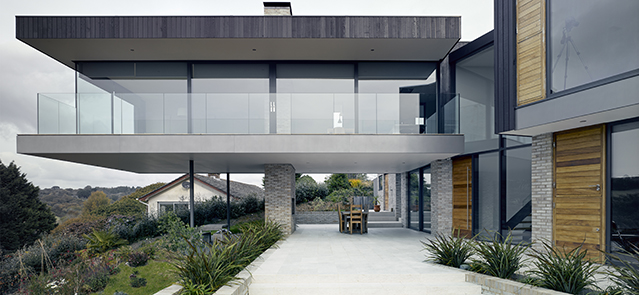 Photo: Owers House by John Pardey Architects, photographed by James Morris
How have this year's architects approached city projects?
The Garden House is a perfect example of a successful city project. To reduce the problem of a very tiny backland site – just a one-bedroom former workshop between a Victorian housing development and a conservation area in Hackney ­– the architects have found a new typology of roofscape to create a garden on top of the house.
Equally, the Modern Mews home presented a similar problem as mews houses in London are typically very dark, compact places. To combat this Coffey Architects used structural glass in the main stairwell and made it seem a lot brighter and more open plan. The dead space in the middle becomes the property's biggest asset.
How are country projects different?
With Zinc House in Scotland the challenge was more environmental, as the architect looked at reinterpreting an agricultural structure as a home. Using folded zinc panels and by adding large expanses of glass throughout the property meant that they were able to blend into the landscape more successfully, and when you drive past it today you would think that you'd passed a barn rather than a home.
What I liked about Zinc House was that they didn't simply choose to put a floor-to-ceiling window facing one side with a view, it was separated out so that the views all around the property were made equally important.
What are the main challenges with city and country builds?
A lot of what you do in a city has to do with defence – defence from a busy day, from the noisy street, from being seen. City plots have an existing language of design to work with and fit into, whereas on a rural plot you the problem is what you want to look on to. In a rural setting you have the luxury of making it as open as you want it to be, yet conversely that can also be one of the biggest challenges.
With the Cumbrian Private House, it was almost a combination of both these challenges because it was at the centre of the tiny market town, which historically are quite conservative architecturally, and yet still quite rural at the same time. The way this house uses Cumbrian stone almost camouflages it, yet when you move through it the stone almost ceases to be present. The ensuing volumes feel like they are ordered from the landscape.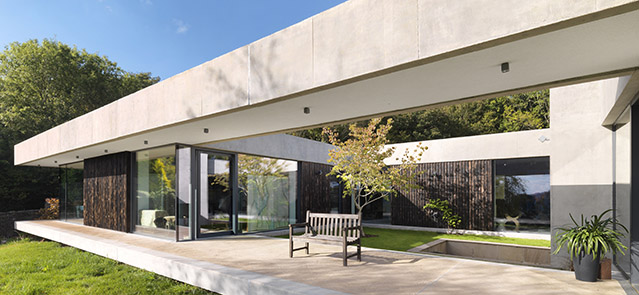 Photo: Outhouse by Loyn & Co Architects, photographed by Charles Hosea
If you had to pick one, which would you choose to win and why?
Tough question. Outhouse is essentially the house that architects have been drawing for years; it's the pinnacle of that kind of house and really is one that anyone would choose to live in.
But, what I love from this year is the amount of smaller projects, which I have more of an affinity with, working a lot in London myself. I like the small ones because they're more accessible for the audience. When you compare these projects with the winner of last year – which could have had an unlimited budget ­– it becomes more interesting.
Get insurnace cover for your renovations or extensions with our high quality cover
Grand Designs: House of the Year will be on Channel 4 at 9pm on 24 November 2016. The winner of the RIBA House of the Year Award will be announced on 15 December 2016.
For more information about the 2016 RIBA House of the Year, visit the RIBA website