Chef chat
May 12, 2014
Five minutes with the multi-Michelin-starred Raymond Blanc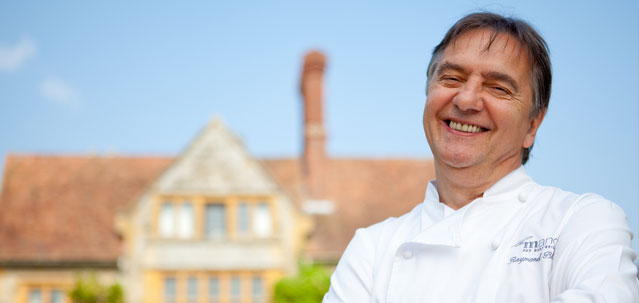 I always wanted to learn more and will only use the very best freshest ingredients

Raymond Blanc
What inspires you to create new dishes?
My travels around the world, learning how other chefs use ingredients, how they cook — and tasting other people's creations. You must never sit still; I always want to learn more and will only use the very best, freshest ingredients.
What is your favourite home-cooked comfort food?
Simple, pan-fried steak with pan juices and wilted spinach.
What do you love about cooking and living in England?
I love the way Britain is reclaiming its regionality and how people are finally reconnecting with their local farmers and producers.
How important is home cooking?
Being with family and friends is invaluable. Enjoying time together, creating a meal, preparing it, and sharing it — there is nothing better!
Most underrated ingredient?
For me, it's chervil — my mother makes a beautiful vegetable and chervil soup. It's wonderful comfort food and ready in five minutes. She simply sautés fresh seasonal vegetables in a little butter, adds a handful of loosely chopped chervil and water, then briefly boils. MamanBlanc never uses stocks in her soups as all the flavour comes from the herbs and vegetables.
This year, Raymond Blanc's Le Manoir aux Quat'Saisons celebrates its 30th anniversary. www.manoir.com