Can a home create more energy than it consumes? The Home of the Future
June 25, 2015
Our Home of the Future research shows how ambitious architects and product designers are aiming to create homes that generate more energy than they consume, including kettles that will power your phone.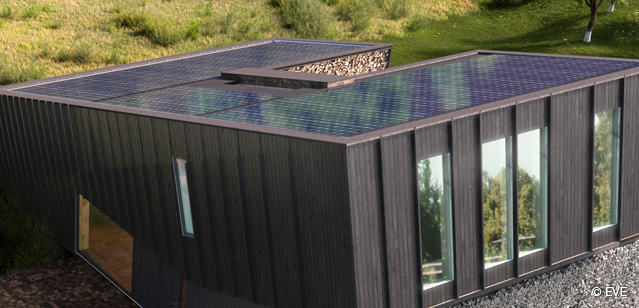 The building sector is currently responsible for 40% of the EU's final energy consumption. It's the biggest single source of CO2 emissions in the EU, and it owes much of this title to inefficient designs, which, in the long term, can cost thousands in energy use and leave a deep carbon footprint.
As detailed earlier in our Home of the Future series, ambitious architects are now approaching a wholesale redesign of homes as we know them, creating homes that not only reduce emissions to almost zero, but also generate more energy than they consume.
Top energy saving/generating innovations:
Paving slabs – generate energy when stepped on
Odour-absorbing paint – no need for an extractor in the kitchen
Kettles – generate energy when boiling water
Heat-absorbing plaster – released at night
Smart technology – automatically controls heating and lighting
Recycled materials – pineapples and fish scales used for sofas
Solar panels – power captured from the sun
Battery power – all power generated in the home captured in a battery connected to a grid
We spoke to international architecture and interior design company, Snohetta, to gain insight into the innovations with materials, design, tech and the sustainability of future homes.
Smart designs in the pipeline
The ZEB home or 'zero emissions building' is the new offering from Snohetta. This uses efficient designs alongside energy wells and solar panels to cut the average £1000-a-year energy bill to somewhere between £50 – putting you in credit by £20.
According to Snohetta, in Bergen, Norway, there is a 'master-plan' for these homes that includes scaling up the design to 700 or 800 dwellings 'with an ambition for the entire site to be energy positive.'
Snohetta's lead architect, Kristian Edwards, informed Hiscox that work is well underway. "There is already a planned timeframe of 2017 for building to start. We're currently in the second phase of energy calculations and submitted for planning approval."
These homes will be connected to a 'smart city' environment and the community will act like a small power station. Snohetta believe these energy-positive communities, where residential areas act as small power stations that contribute to the grid, will become more common in future.
Lowering emissions through materials
In order to reduce emissions from the expanding building sector, architects are focusing not just on deriving energy from renewable sources, but also on reducing the use of materials that waste energy. This means greater deployment of natural and recycled materials in building designs, and materials that support an efficient living space.
"We work in tight collaboration with SINTEF to ensure products meet a specification of as low-energy as possible," says Kristian. "But we must also consider function. If a material will heavily impact a building's capacity to save energy then we have to consider alternatives. It's a very careful balance and we've seen great benefit in a holistic project model involving client and researchers to ensure parity."
The technology within
With such innovative structural designs heading our way, a host of green technologies to adorn these properties would never be far behind.
High-spec triple-glazed windows, super insulation and Energystar certified appliances are key features in new zero-carbon designs, lowering energy wastage and consumption.
Homes will also focus on the use of natural ventilation techniques which harness the air temperature and wind outside to heat and cool the air within the home. Architectural design that takes advantage of natural light and shade is also integral in keeping the home hot and cool as required at a zero-carbon cost, and reduces the need for artificial lighting.
Houses will also host a new generation of devices that harvest previously wasted energy. Emerging examples include kettles that can retain the energy that is normally lost through boiling water, and washing machines that can create electricity from the vibrations of the spin-cycle.
Challenges ahead
While these homes of the future are cause for excitement, Kristian is keen that the end goal of lowering energy consumption remains at the forefront of design.
"We still need to be very much concentrated on energy efficiency in the home. When we talk about photovoltaic cells and producing our own energy that might seem like it becomes slightly less important, but the main focus should still be on reducing energy consumption."
Nevertheless, their current successes are leading Snohetta to branch outside of Norway in a bid to bring zero-carbon homes to a wider market. "We've already seen major developments and I believe the journey to becoming zero carbon is relatively achievable with today's material and technological scope."
"Now that we've realised a couple of designs, we have a number of projects in the pipeline. We're in touch with US markets, developing our framework approach over there, and eventually we'd like to broaden that scope to a global level."
However, an expansion in Europe and around the world means the approach as well as the designs we're likely to see may be very different, depending on their climate and culture.
"In terms of future development, we need to have a much larger idea of the environment and culture we're dealing with. There's no simple method of zero carbon building that can be moved from place to place, country to country."
If you've been inspired by our research and want to find out more, take a look at the Home of the Future report in full, and watch the accompanying video.
Stay tuned for the next instalment of the Home of the Future series.
To find out how you can protect your home for the future visit our Hiscox buildings and contents insurance page.
Beg to differ on the thoughts in this article? Share your views on what you think the Home of the Future will be in the comments below or over on our Twitter and Facebook pages.