Buying the right bike for you
May 13, 2016
Once upon a time choosing a bike meant opting for a town bike, a road bike or a mountain bike. Fuelled by technological developments pushing the boundaries of bike design, the choice now verges on the bewildering. Cycle specialist Richard Peace makes sense of it all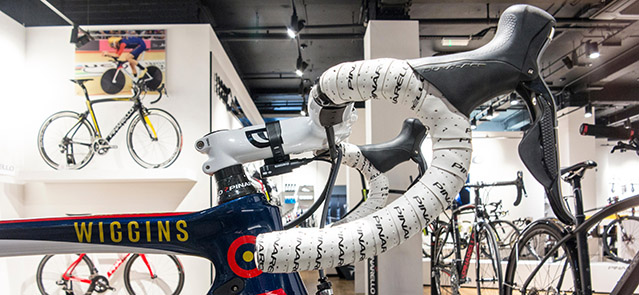 Photograph: Alamy
When it comes to choosing a new bicycle, how confident would you feel walking into a shop? Do you want something with shock absorbers? Should the frame be an aluminium alloy or carbon fibre? Do you want a single speed or a model with derailleur gears?
Before you get drawn into the technical specifications, however, think about what you're actually going to use your bike for. Different types of bicycles have evolved to meet very different demands – from the rider who wants to get fit travelling to work through to the intrepid explorer keen to take their two wheels off-road. We explore the options for anyone looking to hit the road this summer.
For the daily commute: Hybrid bikes
Hybrid bikes are one of the most useful kinds of bike and have the greatest choice of styles. They have 'flat' handlebars (i.e. not 'drop' racing bars), but like racing bikes are made to go fast on the road. They will usually have the same size wheels as road bikes but will be more comfortable to ride.
Examples: Cannondale Quick range (fast); and Specialized Crosstrail (all terrain).
Pros: Great choice, from lightweight speed machines (in effect flat-bar road bike) to low-maintenance models with hub gears or 'trail' models with front suspension.
Cons: Not quite as fast as road bikes. Won't handle tougher off-road conditions.
For weekend speed: Road bikes
With its trademark drop racing handlebars that require a head-down position, the road bike is for the dedicated cyclist. With plenty of gears, the bikes have become lighter over the years to the point where the current (expensive) carbon models vying for the 'world's lightest bike' tag are under 5kg. The latest technology fitted to road bikes includes powerful disk brakes and highly accurate electronic gear shifting. With women's cycling increasingly popular, many firms are producing road bikes especially suited for women's smaller bodies.
Sub-genres include: Gravel bikes such as Raleigh Mustang with treaded tyres (fast on road but will handle tracks); endurance bikes, also known as sportive bikes (slightly wider tyres and more comfortable frame geometry – look to the Giant Defy Advanced 3 for an example here); and aero bikes like the Giant Propel Advanced 2 (if you really want to go as fast as possible).
Pros: Fast and light.
Cons: The head-down position is not the most natural or comfortable. Thin, high-pressure tyres also mean you will feel every bump in the road.
For holiday breaks: Touring bikes
Similar in configuration to road bikes, but generally heavier in build and with wider tyres, touring bikes have the facility to take pannier racks for the self-supporting campers. Genres of bike sitting between touring and road bikes (with some features of both) are audax and light touring – built more for speed and less for comfort but still capable of load carrying.
Examples: Surly Long Haul Trucker is a classic model.
Pros: Fast and capable of load carrying.
Cons: Somewhat specialist and heavier than road bikes and many hybrids.
For your lifestyle complement: Town bikes
A more upright riding position than hybrids, town bikes have many 'extras' such as mudguards, a chain guard, dynamo lighting and pannier racks so you can carry the shopping or put on a child seat, making them the ultimate in practicality.
Examples: Most Dutch-style town bikes such as Pashley Cycles.
Pros: Superbly practical for short trips around town. Long-lasting, low-maintenance parts.
Cons: Comparatively heavy and slow, so better for shorter distances.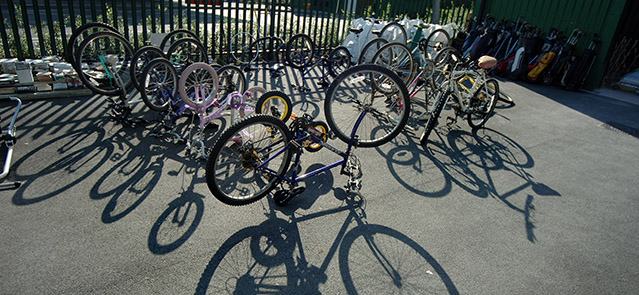 Photograph: Alamy
For the two-wheeled adventure: Mountain bikes
Suitable for tackling all kinds of off-road riding, mountain bikes can handle anything from rough canal towpaths to full-on rocky hill tracks. They can also be at home in cities where the suspension and large tyres soak up potholes and kerbs.
Further choices include front or full suspension (the latter if you want to tackle the biggest bumps and humps). There are several distinctions (based on frame design and suspension) but a recreational or trail model will have the widest uses.
For really loose surfaces like sandy tracks or snow, massive-tyred fat bikes are a new design. 'Plus' mountain bikes have tyres somewhere between regular mountain bikes and fat bikes in width.
Examples: Whyte and Calibre (via Go Outdoors).
Pros: Go anywhere.
Cons: Much slower on the road than most other types.
Still haven't found what you're looking for?
Folders are one of the most popular bikes in city rush hours. Brompton is king of the folders. While ideal for hopping on and off public transport, small wheels mean they are less efficient and comfortable over very long distances and big potholes.
Electric bikes come in every conceivable type, barring road bikes and tourers. They are great for sweat-free riding and hills, though weighty and with expensive batteries that may need replacing every few years. Look for established motor systems like Bosch, Kalkhoff, Shimano and Yamaha.
If you regularly want to take large loads or several small children by bike take a look at cargo bikes. And if you're after something completely different, have a look at a tandem or recumbent.
Richard Peace is a regular contributor to Cyclists Touring Club magazine and Cycle magazine
Find out more about Hiscox Bicycle cover or call 0808 2743 560 (Mon-Fri 8am-7pm, Sat 9am-5pm)