How to add character into a new home
January 21, 2015
Don't be daunted by moving into a new property. It's easy to add your personality to it, says interior designer Hugh St Clair.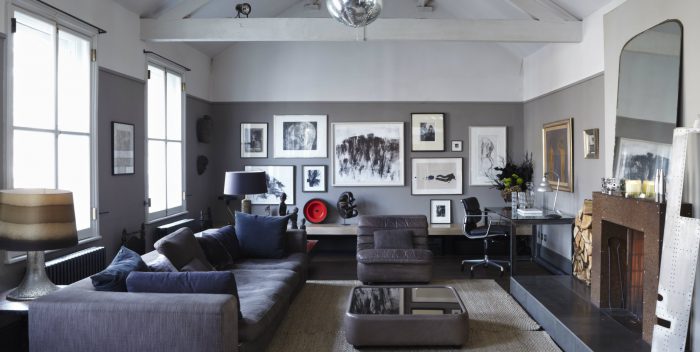 An untouched house with original character is rare to find these days. Over the years, most places have been "made over" by DIY experts, interior designers and property developers. To make a place your own it would be tempting to rip out all previous work but this could be very expensive and unnecessary.
Of course, you'll need to start by removing all extraneous accessories and strong statements left by the previous inhabitants such as fussy pelmets, ugly wall lights and wrong period door handles.
However, well made but dated joinery can be transformed with well chosen paint colours and spaces given light, warmth and drama, where required.
Paint consultancy is a service that is becoming increasingly popular and can be a wise investment, as well as provide a well thought out framework for self expression. If you're unsure where to start, trying looking at the work of Sophie Grattan Bellew, co- founder of Paint Library and Joa Studholme of Farrow and Ball (above).
Start by painting kitchen units a bright colour and the back of a shelf or wardrobe a dark tone such as petrol blue or dark grey or red earth to add character. Stencilled walls may have gone out in 1980s but up cycling old furniture with a hand painted design or a stencil is a very good way of adding individuality which never goes out of fashion. Find ideas and inspiration at The Stencil Library.
A unique home is all about mixing vintage and one-off pieces with the contemporary. One of the buzzwords of interior design is "repurpose." So an old French birdcage found in a French flea market could be hung from the ceiling with a candle inside or an oil drum could become a table base.
But by far the simplest way of adding character is through small details. Add attractive cupboard and door handles, such as those by Graham and Green and Haute Deco.
Refresh the existing kitchen too by just replacing the counter tops and the bathroom with new taps. Finally, use plain linen fabric but add a fringe of beads to a Roman blind, ribbon on a cushion or a luxurious bouillon on a chair. You can see examples of these at Osborne and Little, Samuel and Sons and VV Rouleaux.
Picture credit: Farrow & Ball.
Read more from Hugh on how to light your home in the winter months.