A guide to hassle-free cycling
July 29, 2016
Does the thought of fixing a puncture fill you with dread or are you happy to get your hands dirty? Cycling expert Richard Peace explains how to keep your bike in good order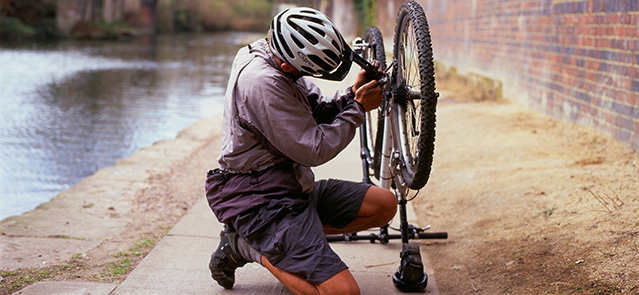 Photo: Alamy
Whether you've opted for a bike to speed down country roads at the weekend or a foldaway model to commute from the train station to the office, you want to keep your two wheels spinning with the least amount of fuss. There's nothing that ruins the blissful freedom found in gliding down the road more than the need for a sudden repair.
From choosing the right parts and carrying the right tools to knowing the right people to call, here are my seven top tips for keeping your bike breakdowns to a minimum.
1. Invest in tough tyres
Punctures were once the bane of cyclists' lives but nowadays there is a lot you can do to prevent them. Kevlar-protected tyres come in various forms and while more protection equals a heavier, slower tyre, it's definitely a good idea to have a tyre with at least some Kevlar protection (some tyres are still quite racy, even with Kevlar added).
If you aren't bothered about adding a bit more weight, slime-filled inner tubes work well to prevent punctures as they seal any penetrations into the inner tube as soon as they occur.
2. Listen to your bike
However advanced your bike is, small adjustments will need to be made as things shift and change with use – it's definitely a good idea to nip problems in the bud.
As Howard Yeomans, ex-cycle mechanic and editor of Velovision magazine explains, 'Attending to small problems like noisy gears and rubbing brakes before they worsen is key to trouble-free mileage. The simplest fixes usually take the least time and money to put right.'
But how to spot such problems? Listening to the bike is clearly important; it shouldn't make any noise apart from the humming of the tyres on the road unless you have a belt drive (more on that later).
Cleanliness is a good idea in this respect too. 'It might sound mundane, but cleaning a bike is a good way to become familiar with its workings and to spot things like bent and frayed cables or parts working loose. Cleaning the chain at the same time will reduce wear across the transmission, saving money in the long term and helping the bike run most efficiently,' Yeomans advises.
Pay particular attention to gear and brake cables; these are usually very easily adjustable on the fly and learning how to do it will pay low-maintenance dividends.
3. Carry the right kit
Always carry tools, even if you are not expert at using them, as someone might be able to help if you break down. The most minimalist repair kit should include a good multi-tool; Park Tool's sturdy MT40 has all the features you would need for the commonest roadside repairs.
You'll also want to take a spare inner tube and pump. This should mean you are equipped to deal with the 'usual suspects' that cause roadside repairs: punctures, rubbing brakes and gears that need adjusting to change smoothly.
Wear surgical style latex gloves for potentially mucky but regular lubricating maintenance jobs. Choose a healthier and ecologically sound detergent like Green Oil, which makes it easier to rinse off old mucky oil from a chain and then renew it.
4. Put in the practice
In terms of your skills, practice is the most important thing. Just removing a tyre and inner tube before putting it back on the bike is probably one of the most useful tasks. If you're feeling more confident, try splitting and rejoining a chain. And if you're really ambitious, try putting in new gear and brake cables.
'Knowledge is the most valuable resource for all cyclists, from novice to expert. Gather it everywhere you can, from friends, online maintenance videos or a book,' says Yeomans. 'Consider investing in a few maintenance lessons from an expert – ask your local shop or cycle club.'
My most valuable tool for home repairs has been a proper workstand for raising the bike up to eye level for comfortable and easy access to all parts of the bike. And don't overlook good storage; keep the bike in a dry environment and keep the chain well lubricated.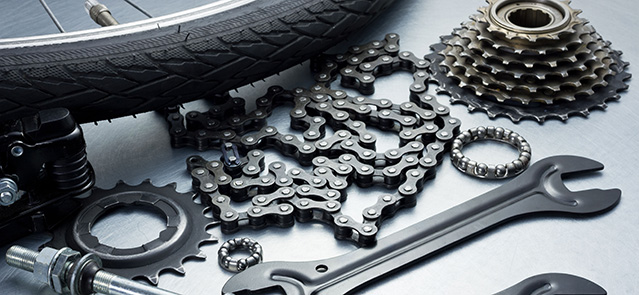 Photo: Alamy
5. Look for low-maintenance parts
While the key to trouble-free maintenance is caring for your bike properly, over years of riding and testing many kinds of bike, I've found that if you opt for certain features, you can help reduce some irksome problems on the road. These include the following:
Hub gears are sealed within a shell and while being a little heavier than derailleur gears they are less prone to damage and once set up correctly require very little maintenance. They have a reputation as being not for faster riders but newer hubs such as the Shimano Alfine are considered more efficient than their predecessors.
Disk brakes are pretty low maintenance and more low cost than replacing worn wheel rims, doubly so if you venture away from tarmac where dust and mud can accelerate wear on wheel rims.
Dutch-style bikes offer ultra-low maintenance over speed and lightness. Gazelle has a superb name in the Netherlands and offers models with great value and low maintenance features such as an enclosed chain and brakes – as well as dynamo lighting, meaning you never have to change or recharge batteries.
6. Investigate new technology
Like any new technology, the latest bike innovations have their pros and cons. Manufacturers of belt drives claim that they can replace traditional chains and last a lot longer as they have no moving parts to wear out. However, they are pricier and if you do need to replace one they can be hard to pick up at short notice and cannot be temporarily fixed as broken chains usually can.
Electronic shifting, such as Shimano's Di2 system, replaces cables that can wear out with an electronic signal and provides more reliable and precise gear changing. However, you must remember to keep the battery charged to avoid getting stuck in one gear – and the system is pricey.
7. And if all else fails
With some basic knowledge and a couple of tools you can nip problems in the bud and enjoy many happy hours of stress-free cycling.
But if you still aren't confident of your repair skills there are an increasing number of mobile repair services such as NipNip that will come to you. As perhaps the ultimate last-ditch, get-out-of-trouble measure you could also look at buying cycle recovery cover, like the one that comes included with membership of British Cycling.
Richard Peace is a regular contributor to Cyclists Touring Club magazine and Cycle magazine
Find out more about Hiscox Bicycle cover as part of Hiscox Home Insurance.