10 of the best art and antique fairs to visit this summer
May 21, 2015
Looking to find that special piece for your home? Industry expert Hugh St Clair offers his view on ten of the best art and antique fairs to visit this summer.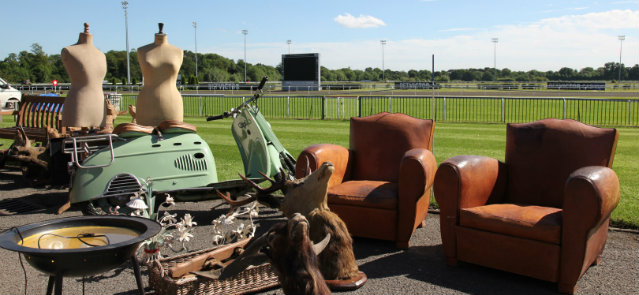 June is the season for antique and art trading and there are fairs all over the country to cater for a variety of tastes  and budgets.  Here's a list of the best fairs and events and what to expect.  An entrance admission is sometimes charged but often complimentary tickets are available from stallholders. A few are free to enter.
Every Object Tells a Story, 6th May to 26th June
Oliver Hoare, an Islamic specialist who has helped Middle Eastern Sheiks buy for their National Museums, has put together a cabinet of curiosities in Central London. Amongst the objects for sale are old scrimshaws with erotic carvings, the Dalai Lama's violin and an assortment of ancient artefacts priced from £500 -£1 million.
www.everyobjecttellsastory.org.uk
Lincoln Antiques and Home Show Fair, 1st to 2nd June
3,000 traders lay out their wares on the grass at the Lincolnshire Showground with everything from old bird houses, large glass bottles, assorted china and galvanized tubs to mahogany and painted furniture. A shuttle bus operates from Lincoln Station.
Scotfairs, 7th June Edinburgh; 21st June Glasgow
These inside tabletop fairs selling coins, medals, porcelain and glass offer an opportunity for bargain hunters. In addition to dealers are people wishing to dispose of inherited possessions and objects surplus to requirements which are too good for Car Boot sales.
Sunbury Antiques Market, Kempton Racecourse, 9th and 30th June
This event takes place every second and last Tuesday each month. It opens at 6.30 am so you're likely to find bleary-eyed London antique dealers poking amongst the stalls outside of  furniture, brocante and lighting. The inside hall is where jewellery, porcelain and vintage clothes dealers set up tables. Admission is free.
Art Antiques London, 11th to 19th June
Art Antiques London was originally a porcelain fair but has now admitted dealers in silver, pictures, sculpture and furniture. The fair is aimed at collectors looking for good quality pieces with provenance. A lecture programme by experts in their field is part of the event.
Newmarket Racecourse Antique and 20th Century Fair, 14th June
Twentieth century effects are fast rising in value as time passes and this is a fair to find objects at entry-level prices amongst the 250 stalls. Valuations are offered and there is also an antique restoration workshop on site.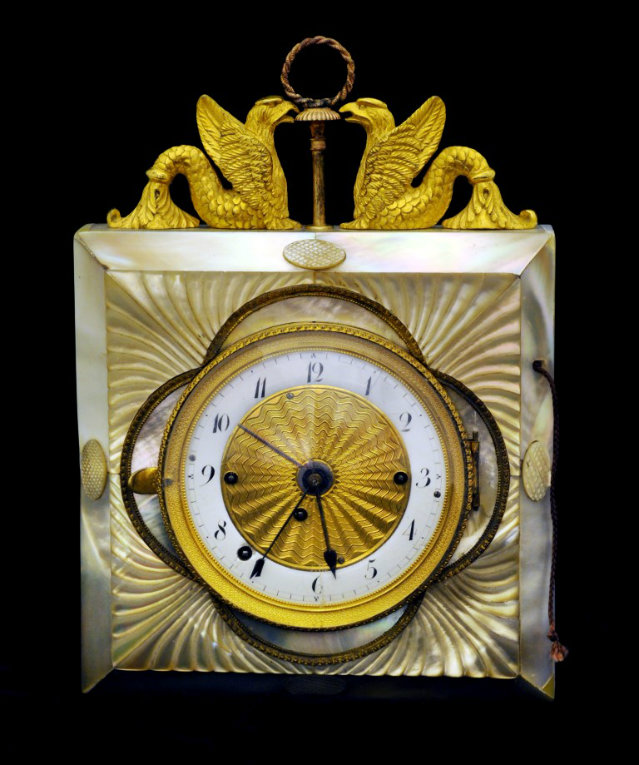 19th Century Empire Style Viennesse wall clock – image courtesy of Olympia Art and Antiques Fair
Olympia Art and Antiques Fair, 18 to 28th June 2015
Olympia is an important event in the calendar. Originally only strictly vetted antiques pre-1900 were admitted but, 20th century posters, fossils and 1960s jewellery are now allowed in alongside the classical Georgian pieces. HALI fair of beautiful antique textiles will be running concurrently in an area of the exhibition hall.
Ardingly  Antiques Fair,  23rd and 24th June
Ardingly is  a short journey from the Cross Channel  ferry so this fair with up to 1,700 stalls is full of European dealers selling interesting decorative items as well as antique furniture, lighting and textiles.
Masterpiece London, 25th to 30th June
Masterpiece offers the ultimate in fine craftsmanship, mostly antique but also now contemporary jewellery and watches by Jaeger Le Coultre and Riva speedboats. It is a very international fair and the fine antiques for sale are of interest to the Chinese as well as the European and American collector.
Salvo Fair, 27th to 28th June
Salvo originally started as a directory of Salvage Companies and this year will hold a fair on a country estate near Henley on Thames. Claiming to be the largest architectural reclamation fair in Britain, at this venue you can find building materials, architectural details and industrial and upcyled salvage. The highlight is a gypsy wagon amongst the old postboxes and station bench ends.