Photograph: Tern TV
Are renovation and extension projects getting bolder? What are the risks? And why do homeowners take on these mega-projects? Charlie Luxton, co-presenter of Channel 4's Best Laid Plans has the answers.
'I don't think the ancient Egyptians would've taken on the pyramids had they known quite how difficult it would have been,' remarks architectural designer Charlie Luxton. 'You start these things and before you know it you're up to your neck in it.'
Luxton is co-presenter of Best Laid Plans, a new Channel 4 show co-created with Hiscox, that tracks the progress of a series of home renovations and extensions across the UK. Ranging from rear extensions and cottage remodels through to a large-scale chapel conversion, 'every house and every project is unique,' says Luxton. 'But what's nice about this is that if you're thinking of doing a project, there will be someone to take lessons from.'
For Luxton, the sheer scale and scope of the renovations and extensions is testament to homeowners' increasing desire to reimagine their living spaces in projects that are not limited by traditional form or function. 'I'm endlessly blown away by the ambition. People are pretty amazing. And what they're prepared to put up with to get their home right is always impressive,' he says.
Moving with the times
While the types of projects on Best Laid Plans vary, most of the housing stock featured in the programme was built in the 19th or 20th century when living requirements were different. Sitting rooms, kitchens and dining rooms, for example, were often partitioned. Many of the builds in Best Laid Plans therefore seek to create single living and eating spaces that are more sympathetic to the needs of 21st century families. 
'A lot of modern families are becoming quite cellular on one level. People aren't watching the same programmes or are multi screening, but I think we still like to be physically close to one another, even if, intellectually, we're often somewhere else,' says Luxton.
    
Where homeowners traditionally saw the layout of their home as a fixed template, Best Laid Plans reveals a new generation happy to radically transform their four walls. All of which introduces greater challenges and potential pitfalls. However, in Best Laid Plans it's the obstacles that homeowners overcome that give the greatest insight about what it really takes to bring a renovation or extension to life.
'There's always a leap of faith. One thing I would say about Best Laid Plans is that everyone throws themselves into it physically and emotionally,' says Luxton.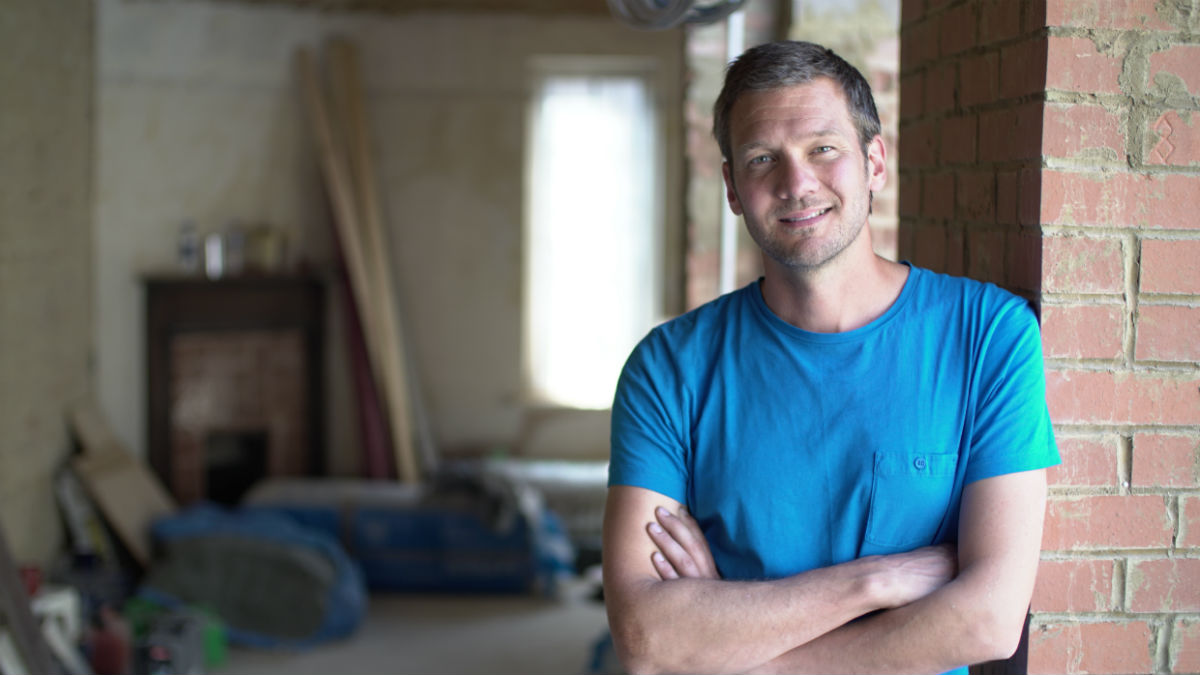 Photograph: Charlie Luxton, co-presenter of Best Laid Plans, Tern TV
Look before you leap
Of course, where there is ambition, there is uncertainty – 87% of projects go overschedule and 92% go over budget*, according to Phil Thorn, Head of Direct Home Insurance at Hiscox. And with this much uncertainty comes risk. 
Depending on the size and duration of the works, whether you're digging a basement, or if contractors are working at height, the risks are generally much higher for extensions and renovations. Even day-to-day, if there's an army of builders on site or a structure being knocked down, the risks of theft, damage to the property, accidental fire and plumbing issues are significantly higher. 
Yet, historically, most insurance providers have either avoided renovation and extension cover or imposed very restricted terms. 'It's underserved because it's complicated,' says Thorn, adding that many people still don't realise they have to tell their home insurance provider if works are being done. 
According to our own Hiscox research, almost 50% of homeowners are completely unaware they're not covered.  Others wrongly assume it's covered as part of their home insurance. 'That in itself is the biggest actual risk. Part of what we're trying to do with the sponsorship of Best Laid Plans is to educate people that if you are doing this kind of project without the correct insurance and something happens, you could literally be left with nothing,' says Thorn.
Bolting onto existing home insurance for the duration of the works, Hiscox's Renovation and Extension product is a full solution that gives the customer complete control, with no gaps in the cover. All of which means that the homeowner can then focus on the sizeable job in hand.
Building a relationship 
'I hope people are empowered by Best Laid Plans,' says Luxton. 'Moving house is really expensive and painful, and I think sometimes people just move because the grass is always greener.' The series, he hopes, will show that even simple changes can enrich your life.
'If you love a place and love a community but the house isn't quite right, often there's a way to make that house the home of your dreams. Like a relationship, sometimes it's the one you need that you have to work a bit harder at.'
* Source: Renovation Insurance Brokers based on 5,400 policies underwritten between 2011 and 2015
Best Laid Plans is a 10-part series co-created with Hiscox airing on Channel 4 every Saturday at 4.30pm from 14 October. 
Find out more about our Renovation and Extension Insurance